We ask that all visitors register and/or sign-in, in order to access the archived materials available at this site.
Please Sign–In Here.

---
Click on the crest to learn more about the Yarbrough coat of arms.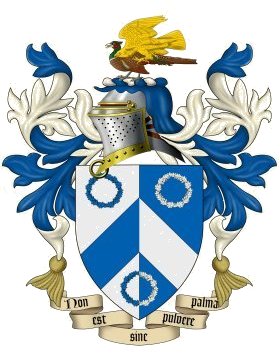 ---
No, Richard (the Immigrant) Yarborough was never married to Frances Proctor! There was a contemporary English Richard Yarborough who was married to Frances, but neither ever left England.

It may be that Richard's father was Thomas Yarborough (or Yarbrowe) of Saltsfleetsby. This was derived by a process of elimination, so it is not hard evidence.

Richard is known to have two proven sons (Richard Jr. and John); it is likely there were other children, but there is no supporting evidence. John may have been the father of a Thomas Yarborough ( ca 1685), but this is conjecture.

Nothing is known of about Richard's spouse(s). Considering the amount of time he spent in Indian territory, it is likely he had an Indian wife (or wives). This would at least partially account for a lack of knowledge about other children.

It is believed by some that the son of Richard Jr. (Richard III) was the father of Joshua Yarborough I, but there is no available evidence to support this belief.

For many years, Ambrose Yarbrough was believed to have immigrated some time after Old Richard's arrival. Later research has shown Ambrose to be a grandson of the Old Richard.
---

Research Tips

Never rely upon the spelling of a family name; both census takers and family members were often illiterate or nearly so;


Do not assume genealogical records to be accurate. (Perform your own due diligence; i.e., does the cited evidence really exist; does it really say what has been reported?)


Do not assume official records to be accurate, especially about dates. It is not unusual to find contradictions/differences in old records, so these must be resolved – which record is the more likely to be accurate?


Family records often include "wishful thinking" about both relationships and actions of ancestors. (This includes entries in the family Bible, too.)


The presence of a child in a household census does not signify that the child belonged to that household. It only means that the child was there when the census taker arrived.


A family myth may contain a germ of truth, but it is still a myth.


Conjecture may suggest lines of inquiry, but it is not proof. Neither is wishful thinking.


While DNA testing may identify others to whom an individual is related, it cannot, however, establish the nature of the relationships.


Never give up; as someone once remarked, "Genius helps and luck is capricious, but diligence and persistance eventually pay off."

Welcome to our site!
We think we have one of the better family sites, and we are always trying to improve it. The site is refreshed periodically to keep a more seasonal look. Over time, links break, so as broken links are found and repaired, it may be necessary for viewers to update bookmarks.

If you are a Yarbrough (however you spell your name) or are a member of an allied family, we invite you to join the Association. We would be pleased to share our knowledge, records and even some family trivia with you.
We really want articles on family lore, historical pictures and photographs about our families' activities. Don't worry about the grammar and syntax — we'll clean it up and let you see how it reads before publishing anything. Full attribution will be given for any submission. We also solicit the submission of family records that add to our collection of genealogical data. Send material as an attachment to an email. The preferred formats for submitted documents are PDF, Word or WordPerfect for stories and family lore; PDF, JPG or JPEG for pictures and other images; and GED or FTW format for genealogical data.

The site map lists everything at the site. Viewers are welcome to use any of the information here; however, we request that full attribution be given for any material that is cited. The site is part of the out-reach function of the Yarbrough Association. We want everyone to know of the history, accomplishments and lineages of our extended and allied families. Most of our genealogical focus has been on the Yarbrough lineages, although we plan to include more information about our allied families in the future.

You're invited to visit our FaceBook page, too. It's open to everyone, and there is usually something of particular interest for the family genealogists.

If there are questions, suggestions or comments, please contact us here.
---
Farewell to a Kinsman...
Lecil Brown
Lecil Brown, born January 4, 1927 in Augusta, AK, to Forrest and Lester Brown, died Thursday, January 1, 2015, three days short of his 88th birthday. He grew up on a farm near Letona, Arkansas. He was a Mechant Mariner during World War II, making several trips to Europe and Asia. After the war, he attended Bethany-Peniel College (now Southern Nazarene University), met and married Glorene Faye Watt in August 1951. They graduated together in May 1952 and began their family in Wichita, Kansas where their four children were born. While in Wichita, they attended the First Church of the Nazarene; Lecil worked at Wichita State Bank and earned an M.A. Degree from Wichita State University in 1955.

The family moved to Lakeland, FL, in 1960, where he worked at Peoples Bank and was an active member of South Florida Heights Church of the Nazarene (now Highland Park). He served on the church board and as treasurer. He earned degrees from the Florida Bankers Trust School at the University of Florida and the National Trust School at Northwestern University.

In 1978, Lecil and Glorene returned to Bethany, OK where they attended Bethany First Nazarene Church (BFC); Lecil became Director of Planned Giving at Southern Nazarene University. Lecil was a long-time member of the National Yarbrough Genealogical & Historical Association, serving as President and Director during its formative years. After retirement, Lecil enjoyed many activities – traveling with Glorene, doing genealogy, driving cars for several car dealerships, and starting the day with his coffee buddies. He was known for giving them daily history lessons. In Oct. 2012, he delighted in going on one of the Honor Flights to Washington D.C. Lecil loved his family and his Lord. His faith in God was steadfast, and he consistently modeled a devoted Christian life. He was truly a good man, a friend, and he will be missed.

Lecil was predeceased by his parents, his brother, Lynn, and his wife of 62 years, Glorene Faye (Watt). He is survived by his four children: Dr. Deborah Brown of Oklahoma City; Rhonda Brown of Bethany; Tim Brown (Darlene) of Bethany, and Edward Brown (Kathy) of Yukon, OK. Lecil was a proud grandparent to four grandsons: Justin Brown (Lauren) of Bethany, Lee Brown (Bethany) of Yukon, Taylor Brown (Caleigh) of Bethany, and Alan Brown of Oklahoma City. He is also survived by four great grandsons: Clint, Luke, Griffin, and Devo.

The family requests donations to the SNU Fund at Southern Nazarene University in lieu of flowers. Viewing was Sunday, January 4 from 2:00 –4:00 p.m. and Monday January 5 at Mercer-Adams; the family received visitors at the funeral home Monday evening from 6:00 – 8:00 p.m. Funeral services were held at 2:00 p.m., Tuesday, January 6, at Bethany First Church of the Nazarene with interment following in Bethany Cemetery.
---
Happenings...
The January issue of The Yarbrough Family Quarterly is now available.

2015 Dues are now payable. Click on either image below to pay now.
Thanks for a prompt payment.
---
The Annual YNGHA Conference
The YNGHA Conference will be Sep. 25 – 26, 2015 in Dallas, TX, at the Embassy Suites in Grapevine, TX, near the Dalla/Ft. Worth airport.