Members' Entry
Please sign in to pass through the members' portal.


All visitors are asked to register and/or sign-in. Everyone currently has access to every page and all the records that are hosted here, but unregistered visitors are restricted to those pages whose links are given on this page.

Beginning in Janaury 2015, all non-members will be restricted to the pages whose links are given on this page.

---
Click on the crest to learn more about the Yarbrough coat of arms.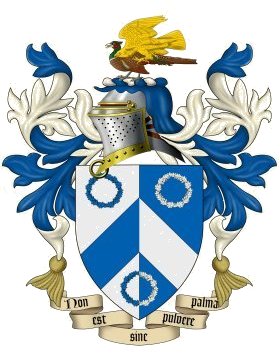 ---
No, Richard (the Immigrant) Yarborough was never married to Frances Proctor! There was a contemporary English Richard Yarborough who was married to Frances, but neither ever left England.

It may be that Richard's father was Thomas Yarborough (or Yarbrowe) of Saltsfleetsby. This was derived by a process of elimination, so it is not hard evidence.

Richard is known to have two proven sons (Richard Jr. and John); it is likely there were other children, but there is no supporting evidence. John may have been the father of a Thomas Yarborough ( ca 1685), but this is conjecture.

Nothing is known of about Richard's spouse(s). Considering the amount of time he spent in Indian territory, it is likely he had an Indian wife (or wives). This would at least partially account for a lack of knowledge about other children.

It is believed by some that the son of Richard Jr. (Richard III) was the father of Joshua Yarborough I, but there is no available evidence to support this belief.

For many years, Ambrose Yarbrough was believed to have immigrated some time after Old Richard's arrival. Later research has shown Ambrose to be a grandson of the Old Richard.
---

"Laws" of Genealogical Research

Never rely upon the spelling of a family name; both census takers and family members were often illiterite or nearly so;
Do not assume genealogical records to be accurate. (Perform your own due diligence; i.e., does the cited evidence really exist; does it really say what has been reported?)
Do not assume official records to be accurate, especially about dates. It is not unusual to find contradictions/differences in old records, so these must be resolved – which record is the more likely to be accurate?
Family records often include "wishful thinking" about both relationships and actions of ancestors. (This includes entries in the family Bible, too.)
The presence of a child in a census household does not signify that the child belonged to that household. It only means that a child was present when the census taker arrived.
A family myth may contain a germ of truth, but it is still a myth.
Conjecture may suggest lines of inquiry, but it is not proof. Neither is wishful thinking.
While DNA testing may identify others to whom an individual is related, it cannot, however, establish the nature of the relationships.
Welcome to our site!
Thanks for dropping by. We hope you enjoy the visit and will return soon.

The site is part of the out-reach function of the Yarbrough Association. We want all Yarbroughs (however the name may be spelled) to know of the history, accomplishments and lineages of our extended and allied families. Most of our genealogical focus has been on the Yarbrough lineages, although we plan to include more information about our allied families in the future.

You're invited to visit our FaceBook page, too. It's open to everyone, and there is usually something of particular interest for the family genealogists.

If there are questions, suggestions or comments, please here.
---
Happenings...
The October issue of the Quarterly is now available.
Beginning with the January issue of The Yarbrough Quarterly will be available only to dues paying members. This restriction results from changes made to better protect the Association's intellectual property rights.

Dues paid in December will be credited to the 2015 dues year.
Click here to pay by mail.

From time to time, the "look and feel" of the site is changed to reflect the changing of the seasons, as well as to acknowledge the national holidays. Sometimes, this is a "block" revision (all the pages changed at the same time), and sometimes the changes are made and posted a page at a time. The winter change is currently underway, following the second approach.
---
What We Do...
Our mission and on-going activities are:

(1) Researching and memorializing the Yarbrough families' ancestry and their accomplishments;
The Yarbrough DNA Project;
The Yarbrough Family Quarterly;
The Facebook page;
(2) Obtaining and preserving Yarbrough family historical records;
The Digitization Project;

We willingly share our information, asking only that full attribution be given to The Yarbrough National Genealogical & Historical Association, Inc., (YNGHA). The YNGHA is a not-for-profit organization chartered by the Commonwealth of Virginia.

Membership in the YNGHA is open to anyone who is a member of one of our extended Yarbrough families or of an allied family. An online application form is available, as is a mail-in form.
---
The Annual YNGHA Conference
The next scheduled annual conference will occur Sep. 2015 in the Dalla/Ft. Worth environs. Details concerning the venue, registration and costs will be provided here.
---
About DNA Testing
Visitors to the YNGHA Facebook page have raised questions about what happens to DNA data after the test lab has sent results to the tested individal (or surrogate). The more pertinent of these are:
Are there other vendors out there that people are using?
There are a number other genealogical DNA testing firms, including 23andme, AncestryDNA (an Ancestry.com), AncestrybyDNA, Britains-DNA, DNAme, DNA Worldwide (FTDNA affiliate),Genebase, 23andme, Roots for Real, YSEQ, among others. In addition, other DNA testing labs may (but not necessarily will) provide test results that can be uploaded to the database of the user's choice.


What happens to the results?
Typically, the results are sent to the tested person. It is up to that person to contact the database administrator (WorldFamilies, GEDMatch, etc.) and upload his/her test results. Generally, the submitter chooses between private and public viewing of the data. In the case of the Yarbrough DNA Project, the test subject must authorize the display of his/her data with the y-DNA spreadsheet. Subject to this limitation, FamilyTreeDNA test data are automatically uploaded to ySearch (http:www.ysearch.org). This is a service provided by FTDNA that is more or less comparable to GEDmatch.


If they're not using familytreedna, are the results transferable the Yarbrough DNA database?
Yes, and it can be either quite straight-forward or a bit more involved, depending upon the testing lab. There are several sets of test data in the Project database that originated from labs other than FamilyTreeDNA.



Do we have a female Yarbrough database?
Not as such, and the mitochrondial results address an entirely different set of conditions. That is, the mtdna shows maternal connections but not the relationships. For those, one must rely on y-DNA tests of a maternal ancestor's nearest male relative. Another way of saying it, the mtdna just isn't that useful for establishing relationships, however interesting it may be.



One person observed, "I personally do not find the Ancestry DNA project helpful. You and all your matches must have pedigrees posted at Ancestry to even hope to find a common ancestor."

It's worth noting that the Yarbrough DNA Project provides both summary family pedigrees and a tabulated set of test data that allows researchers to compare the publically available test data. The Yarbrough DNA Project Coordinator has access to all ftDNA test results, whether public or not. He can inquire of them about family genealogy questions, and so far no one has refused to help.

Furthermore, the value of the project is having all (of as nearly all as possible) of the family DNA test data in a single database. That allows a determination of family groups and sub-groups. An added feature is that the project host (WorldLabs) provides comprehensive information about family genealogy and DNA testing. While it gets a bit technical at times, it is nonetheless a valuable resource.

Also, the determination of family relatedness results from a statistical analysis of the data. It is not a deterministic solution, but probabilistic one, in nature. Given that 95% of all human DNA is identical, that leaves room for erroneous or even duplicative results. For example, there are instances where a non-family member has been identified as a family member and as a member of a third family group. Contrary to the portrayal of DNA efficacy on television,there is room for improvement of the science (and it is getting better).
---
... to view more pages, sign in here.