Access to our Records and Archives now requires viewer registration.
---
The Gateway

Sign In here.
Everyone is now asked to register and to sign in in order to view all the pages at this site.

The pages below presently do not require registration.
---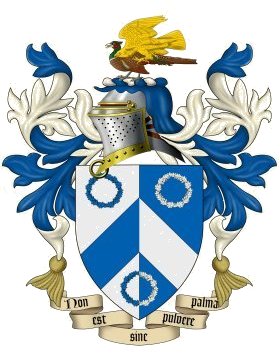 About the family crest.
---
No, Richard (the Immigrant) Yarborough was never married to Frances Proctor! There was a contemporary English Richard Yarborough who was married to Frances, but neither ever left England.

It may be that Richard's father was Thomas Yarborough (or Yarbrowe) of Saltsfleetsby. This was derived by a process of elimination, so it is not hard evidence.

Richard is known to have two proven sons (Richard Jr. and John); it is likely there were other children, but there is no supporting evidence. John may have been the father of a Thomas Yarborough ( ca 1685), but this is conjecture.

Nothing is known of about Richard's spouse(s). Considering the amount of time he spent in Indian territory, it is likely he had an Indian wife (or wives). This would at least partially account for a lack of knowledge about other children.

It is believed by some that the son of Richard Jr. (Richard III) was the father of Joshua Yarborough I, but there is no available evidence to support this belief.

For many years, Ambrose Yarbrough was believed to have immigrated some time after Old Richard's arrival. Later research has shown Ambrose to be a grandson of the Old Richard.
---

"Laws" of Genealogical Research

Never rely upon the spelling of a family name; both census takers and family members were often illiterite or nearly so;
Do not assume genealogical records to be accurate. (Perform your own due diligence; i.e., does the cited evidence really exist; does it really say what has been reported?)
Do not assume official records to be accurate, especially about dates. It is not unusual to find contradictions/differences in old records, so these must be resolved – which record is the more likely to be accurate?
Family records often include "wishful thinking" about both relationships and actions of ancestors. (This includes entries in the family Bible, too.)
The presence of a child in a census household does not signify that the child belonged to that household. It only means that a child was present when the census taker arrived.
A family myth may contain a germ of truth, but it is still a myth.
Conjecture may suggest lines of inquiry, but it is not proof. Neither is wishful thinking.
Welcome to our site!
Thanks for visiting our site. There are several things about the site that affect all viewers. First is that it is part of the out-reach function of the Association. That is, it allows us to make all Yarbroughs (however the name may be spelled) aware of the history, accomplishments and lineages of our extended and allied families. Most of the genealogical focus is on the Yarbrough lineages, although we hope to include more information about our allied families in the future.

We hope you enjoy your visit here. If there are questions or comments, please here.
---
Please Review The Following...
We've moved to an registered username/password access format for our site. This is in anticipation of increasing the amount of material archived on this site. While we continue to pursue a policy of sharing family genealogical data, we also have a fiduciary obligation to protect the Association's intellectual property.
This has been a three step process:
Partitioning of the site into two sections:

A public section, which is fully accessible everyone. That means that there are no required user names and passwords for viewing pages in this section;
A restricted section, which holds archived files, records, supporting documentation, and the like. This section comprises the Association's intellectual property.

The second step, now implemented, asks visitors to sign in. A viewer without a valid username and password can register by providing a user name, password and email address. Upon registration, the viewer is re-directed to a Site Map.The restricted section is presently available to everyone. There is a separate site map for the restricted section.

The third step has been delayed, pending results from the records digitization project. Public pages are still accessible to everyone. The restricted pages and folders will continue to require a username and password. However, access to these pages will soon be reserved for YNGHA members in good standing. Dues paying members will receive a user name (email address) and password, if there is an email address on file.

---
What We Do...
Our mission and on-going activities are:

(1) Researching and memorializing the Yarbrough families' ancestry and their accomplishments;
The Yarbrough DNA Project;
The Yarbrough Family Quarterly;
The Facebook page;
(2) Obtaining and preserving Yarbrough family historical records;
The Digitization Project;

We willingly share our information, asking only that full attribution be given to The Yarbrough National Genealogical & Historical Association, Inc., (YNGHA). The YNGHA is a not-for-profit organization chartered by the Commonwealth of Virginia.

Membership in the YNGHA is open to anyone who is a member of one of our extended Yarbrough families or of an allied family. An online application form is available, as is a mail-in form.
---
The April issue of the Quarterly is now available.

If you haven't paid your 2014 dues yet, please take a few moments and do so. Dues are $30.00 year, and entitle members to the Yarbrough Family Quarterly and (as discussed above) access to everything on this web site.
Click here to pay by mail.
---
2014 Working Conference
There's a planned working conference, time and place (somewhere in the Nashville area) to be determined, in lieu of our usual general conference. Two factors led to this decision by our Board of Directors: (1) cost considerations -- we've been losing money for these conferences-- and (2) the need to digitize our paper records. Everyone is welcome to come and help the digitizing team, as well as to socialize and sight-see. There'll be dinner on Saturday night, as before, just no formal program. We will also conduct the annual business meeting of the Board of Directors.

The 2015 YNGHA Annual Conference will be in Texas; location not yet determined, but it's been a while since we were last in Texas, and it's time to return.

As details become available for both conferences, the membership will be advised by email and postings on the web site and Facebook pages.

---
Our Family Tree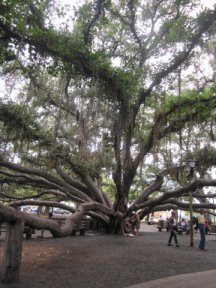 Years of feckless, futile and fitful digging into our family roots finally yielded a bit of understanding about our shared family tree. It is not the fabled oak (quercus virginiana) tree. Rather, it is the banyan (ficus benghalensis). What else can account for the intertwined branches, repetitive usage of the same few given names, multiplicity of spellings, and lack of clarity in distinguishing the origins of the our various branches, twigs and sprouts? At least, it isn't a mangrove, with its multiple root system.
---