We ask that all visitors register and/or sign-in, in order to access the archived materials available at this site.
Please Sign–In Here.
---

Check out the Yarbrough family group on Facebook. There's some interesting items there.
---
The Coat of Arms
Click on the crest below to learn more about the Yarbrough coat of arms.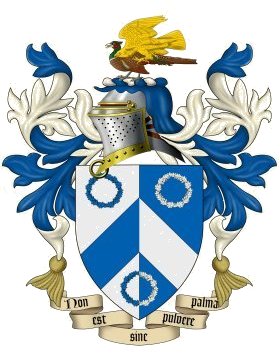 Welcome to our site!
We think we have one of the better family sites, and we are always trying to improve it. The site is refreshed periodically to keep a more seasonal look. Over time, links break, so as broken links are found and repaired, it may be necessary for viewers to update bookmarks.

If you are a Yarbrough (however you spell your name) or are a member of an allied family, we invite you to join the Association. We would be pleased to share our knowledge, records and even some family trivia with you.
We really want articles on family lore, historical pictures and photographs about our families' activities. Don't worry about the grammar and syntax — we'll clean it up and let you see how it reads before publishing anything. Full attribution will be given for any submission. We also solicit the submission of family records that add to our collection of genealogical data. Send material as an attachment to an email. The preferred formats for submitted documents are PDF, Word or WordPerfect for stories and family lore; PDF, JPG or JPEG for pictures and other images; and GED or FTW format for genealogical data.

The site map lists everything at the site. Viewers are welcome to use any of the information here; however, we request that full attribution be given for any material that is cited. The site is part of the out-reach function of the Yarbrough Association. We want everyone to know of the history, accomplishments and lineages of our extended and allied families. Most of our genealogical focus has been on the Yarbrough lineages, although we plan to include more information about our allied families in the future.

You're invited to visit our FaceBook page, too. It's open to everyone, and there is usually something of particular interest for the family genealogists.

If there are questions, suggestions or comments, please contact us here.
---
---
---

Page last updated February 10, 2015.
© The Yarbrough National Genealogical & Historical Association, Inc. 2014.
Contact us at .
Best viewed with Internet Explorer®; may be viewed with Chrome®, Opera®, Firefox®, and Safari®.
If you have a problem viewing this page in IExplorer, click here.